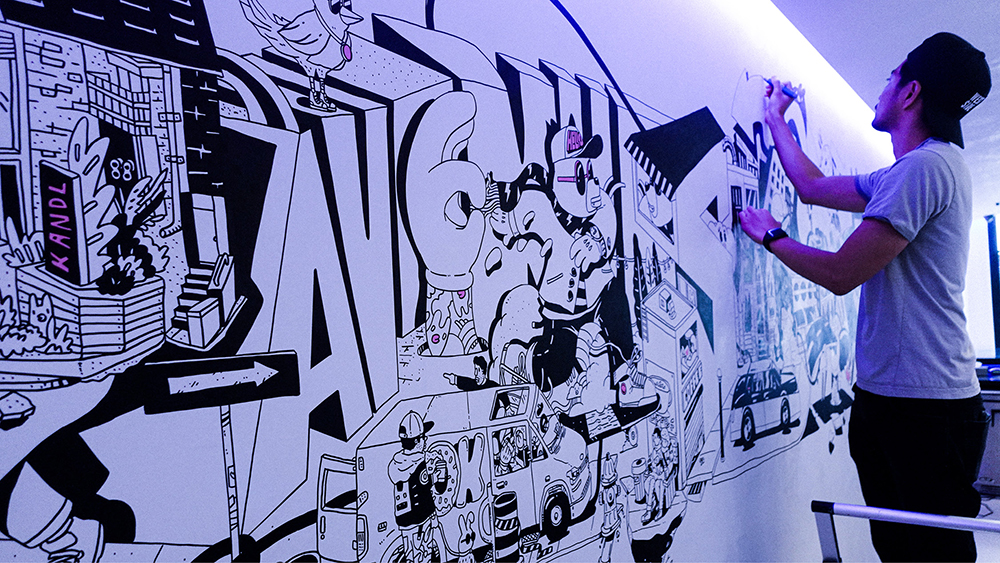 New work! Right after completing a graffiti mural project on Dundas West in downtown Toronto, we were asked to design a new mural for a new restaurant, MSSM Yorkville (by Masaki Saito, Canada's only 2 Michelin star chef) in Yorkville, Toronto coinciding serendipitously with the Yorkville mural fest.
An offer couldn't pass, but we dived right into it, working 2 mural projects back to back which was exhausting but immensely fun. We created the artwork on the spot, continually improvising as we worked but none of this could have happened without our client's trust. The folks behind MSSM gave us full creative carte blanche.
Every mural project is unique and poses its own unique obstacles. For this MSSM Yorkville location, the wall is a 70'+ wide and has a custom Venetian plaster finish which meant we couldn't make any mistakes. Normally, we would have the base coat paint on hand to help fix any mistakes as we work.
The folks at MSSM referenced our #MyNorth work that we did for the Raptors we did back in 2015 which meant highly detailed illustration work that is sharp, clean, and loaded with a ton of Easter eggs.
So we opted for Posca markers. Lots of it.
We completed this bad boy in 7 days and we couldn't have done it without the assist from our friend, Chad Kabigting. An award-winning art director / creative director.
Here are some photos we took. Will be posting behind-the-scenes photos up soon.