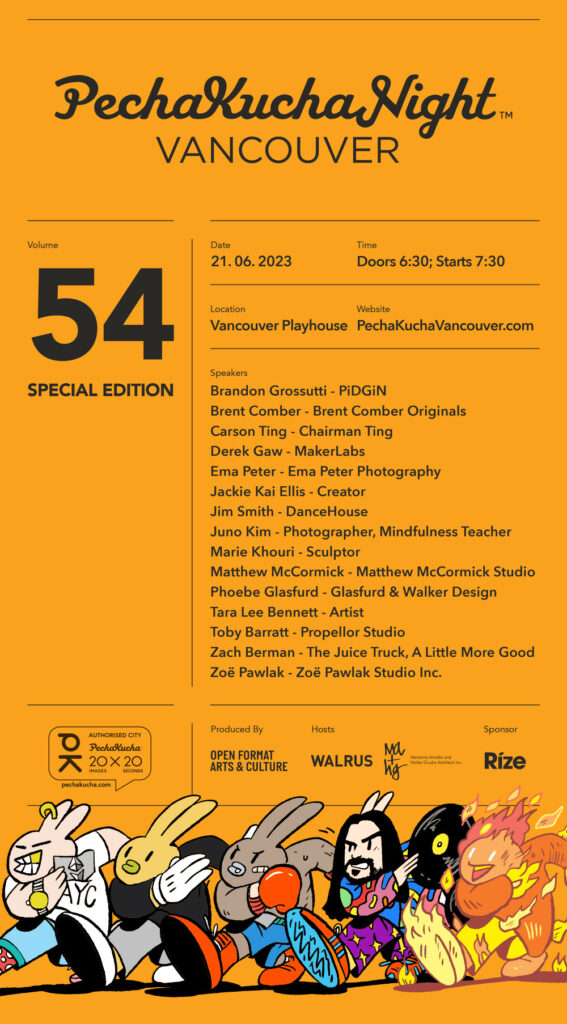 I'm so excited to take the stage again!
I've been invited back to PechaKucha Vol. 54's special edition as this event marks its 15-year anniversary. It was over 12 years ago that I did my first PechaKucha (Vol. 16). So much has changed since the last time I spoke. Now a father of 2, a full-time business owner, more wrinkles, and much more stories to tell. Hope to see you all there.
Tickets go on sale next Friday, May 19th at 10am. Tickets are expected to sell out quickly. Mark your calendar, you don't want to miss this one.
https://www.vtixonline.com/pechakucha-night-vol54/3526/⁠
Taking place at the Playhouse Theatre on Wednesday, June 21st. I am humbled to be presenting among many great talents that I admire.
SPECIAL EDITION
PECHAKUCHA NIGHT VOL.54
JUNE 21ST • VANCOUVER PLAYHOUSE
Lobby doors open at 6:30; show starts at 7:30.
Post-show reception starts from 9:45 to 11:00.
ASL interpretation will be available at this event.
TICKETS:
Tickets go on sale May 19th at 10am.
$23 (Incl. GST) + service fees
https://www.vtixonline.com/pechakucha-night-vol54/3526/
CITY ORGANIZER:
Becki Chan – Open Format Arts & Culture
HOSTS:
Marianne Amodio – MA+HG
Caroline Boquist – Walrus
PRESENTERS:
Brandon Grossutti – PiDGiN
Brent Comber – Brent Comber Originals
Carson Ting – Chairman Ting
Derek Gaw – MakerLabs
Ema Peter – Ema Peter Photography
Jackie Kai Ellis – Creator
Jim Smith – DanceHouse
Juno Kim – Photographer, Mindfulness Teacher, Emotional Well-Being Coach
Marie Khouri – Sculptor
Matthew McCormick – Matthew McCormick Studio
Phoebe Glasfurd – Glasfurd & Walker Design
Tara Lee Bennett – Artist
Toby Barratt – Propellor Studio
Zach Berman – The Juice Truck, A Little More Good Podcast
Zoë Pawlak – Zoë Pawlak Studio Inc.
SPONSOR:
ASL interpretation and post-show reception sponsored by Rize Alliance