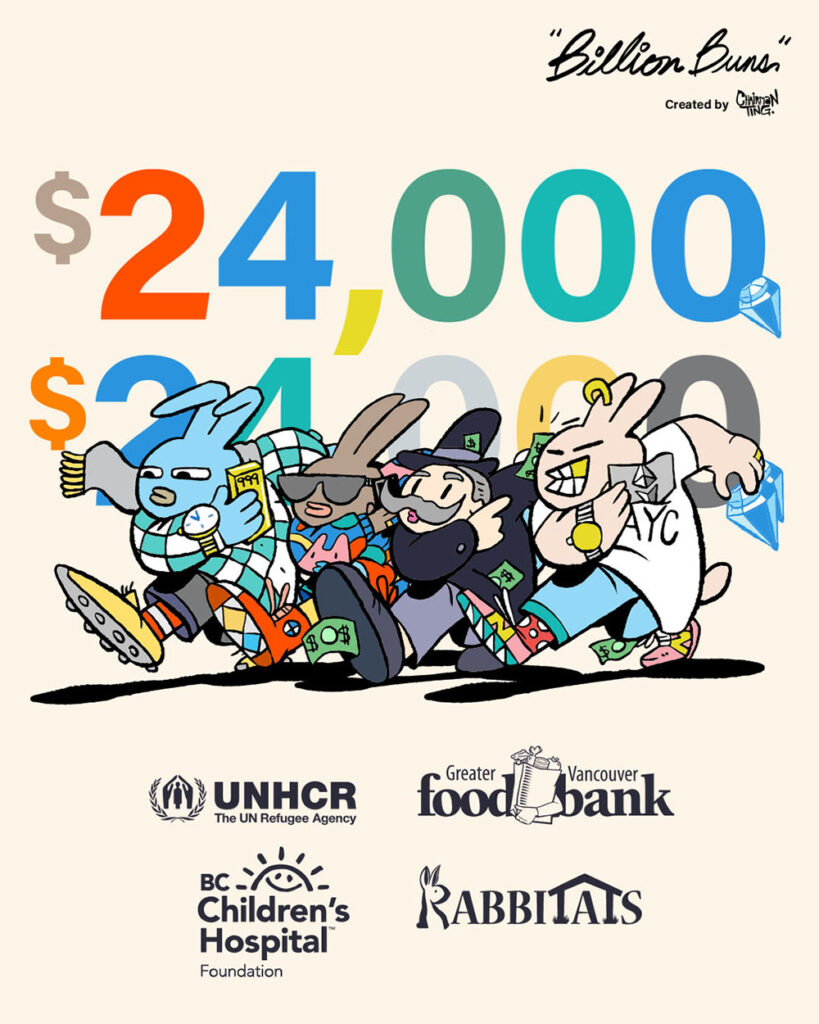 $24,000 CAD Donated.
💎 Ballin Buns 💎 We donated a total of $24,000 cold hard Canadian 🇨🇦 cash to four amazing charities that we admire and it felt like a billion bucks.
As promised, the funds were equally distributed between the UN Refugee Agency, the Greater Vancouver Food Bank, the BC Children's Hospital, and the Rabbitats Rescue Society.
Thank you to our newfound Billion Buns crew. We salute you all for helping with this feel-good initiative. As we continue to build out this Billion Buns universe with you all, we will continue to help give back to the community.
We'd love to hear what charities you'd like us to donate to next and why. We believe giving back to our communities is essential to building a happier and more positive future for the next generation.
Keep those rabbit ears scanning for new and exciting things tunneling to this space. We're cooking up a storm of new collabs, BB merch, and more. We're here to raise the floor for all bun holders.
Fun fact: We summoned the 4 biggest Billion Bun ballers to make this announcement to give this post a bit more bling as them cool buns like say.
Say hi to Money Bun, Hype Bun, Bun of Wall St., And Money May Bun.
JOIN THE BILLION BUNS CREW:
Join our growing Billion Buns crew on Discord: https://discord.gg/pG7U4cWzSy
Want to own a Bun and see the floor rise? Swipe one on Opensea.
---
All tax receipts are below for proof: