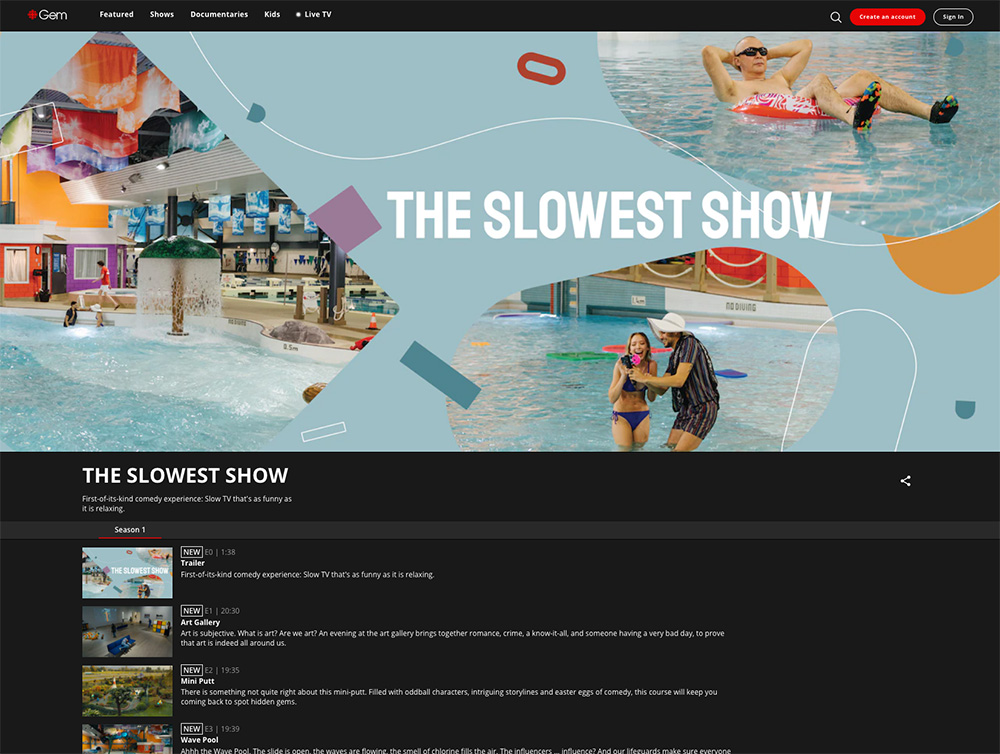 Crazy excited to share our latest design and branding project for CBC Gem's latest show called The Slowest Show.
This was a crazy fun one to work on and ironically although called The Slowest Show, this project was one of the fastest moving projects we took on this year.
The Slowest Show, a first-of-its-kind comedy experience: Slow TV that's as funny as it is relaxing. Go check it out. Big ups to Aiken Lao for crushing this as this was her first art direction role with us!
Art + Design Studio: Chairman Ting Industries Inc.
Art direction Aiken Lao
Design by Aiken Lao
Design intern: Alison Johnstone (IDEA Grad 2021)
Creative direction by Carson Ting
Impact strategist Leah Gregg
Motion Design Eric Wada
Client: Kelly&Kelly Creative
Producer: Michael Grand
Series Writer/Directors – Pat Kelly & Chris Kelly
Series DOP – Joe Schweers
ART GALLERY Director / Exec Producer – Andrew Phung
BOWLING ALLEY, SKATEPARK, MINI PUTT Writer / Director – Maddy Kelly
ICE RINK Writer/Directors – Bita Joudaki & Christine Bortolin
WAVE POOL Writer/Director – Nima Gholamipour
Head of Production: Lauren Bercovitch